Watch, Fight & Pray: My Personal Three-fold Strategy to Combat Prostate Cancer

By: Lonnell E. Johnson, Ph.D
---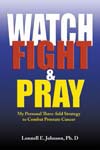 "This book is a testimony to the belief that prayer changes things. As a Urologic Oncologist whose research focus is prostate cancer, I have witnessed prostate cancer outcomes that cannot be explained by our current knowledge of this disease. The role that God plays in our lives should never be underestimated. His power works in ways that we do not understand in the scientific world. Nonetheless, His power is felt by many. Lonnell prays by quoting biblical verses and relating them to real life situations. This works for Lonnell. Other methods of prayer may work for others. The powerful message of this book is that prayer changes things."
—Isaac J. Powell, M.D., Professor, Dept. of Urology
Wayne State University/Karmanos Cancer Inst.., Detroit, Michigan
"At a time when faith is gaining greater respect in the corridors of every dimension of our social fabric, Dr. Lonnell Johnson has penned yet another document proclaiming the victorious presence of God in the affairs of men.
In this timely book, Dr. Johnson presents an intelligent, responsible and practical strategy to address the dreaded disease of prostate cancer. There are many avenues presented as preferred medical protocol for this disease, but faith in God is usually not part of the protocol.
What makes Dr. Johnson's strategy unique, however, is the God-ordained strategy to blend the elements of faith, the skilful hand of the apothecary, and good nutritional stewardship to defeat this dreaded disease. I know that you will be encouraged and inspired by this beautiful story of triumphant faith."
—Eric L. Warren, Senior Pastor
Ambassadors for Christ Fellowship, Columbus, Ohio
About the Author
Described as a "real Renaissance Man," Lonnell E. Johnson represents a unique collage of experiences as a poet and speaker. He has worked as a pharmacist, information analyst, editor, administrator and director of public relations, as well as university professor. His use of original poetry, his vivid illustrations, and delightful humor also provide a special flavor as motivational and inspirational speaker.
Born in Gary, Indiana in 1942, Johnson earned his B.S. degree in pharmacy in 1965 from Purdue University and has worked as a registered pharmacist in Indiana and North Carolina. Drafted into the U.S. Army in 1967, Johnson served as a pharmacy instructor at the Medical Field Service School, Ft. Sam Houston, Texas, where he discovered the joys of classroom teaching, a passion that continues to burn. In 1978 he received his M.A. degree in English from Emporia State University and in 1986 earned his Ph.D. in English from Indiana University, where he was a Consortium on Institutional Cooperation (CIC) Fellow.
From 1985–94, he taught at Fayetteville State University, an historical Black institution in North Carolina. While at Fayetteville State, Johnson distinguished himself as teacher, scholar, and published poet. Receiving the first Teacher of the Year Award in 1989, he was also one of the co-directors of the 1988 National Endowment for the Humanities Grant—"Fiction, Social Change, and Charles W. Chesnutt's Fayetteville."
In addition he was a working board member of the North Carolina Writers' Network, serving as Vice President from 1991–92. During this time, he participated in several programs, such as Black Writers Identification Project, Young Black Writers, and Glaxo Technical Writing Project, among others.
He has written numerous biblical research articles and is author of Ears Near to the Lips of God, collection of poetry published in 1984. His second collection, Sacred Jazz: Music, Mood, and Mind, runner-up for the 1994 Persephone Press Book Award, was republished in 1998. His poem, "No Mo Blues" appears in Literature: Reading Fiction, Poetry, Drama and the Essay, 5th edition (McGraw-Hill). Johnson has captivated audiences across the country with his lively poetry performances with musical accompaniment.
In addition, Professor Johnson has also published scholarly articles in The Journal of Black Sacred Music, College Language Association Journal, Minority Voices, The Mount Olive Review, The Oxford Companion to African American Literature, African American Authors, 1745–1945, A Bio-Bibliographical Sourcebook, The Zora Neale Hurston Forum, and other publications.
Ordained to the Christian Ministry 1974, Johnson presently serves as Associate Pastor and Coordinator of Missions at Ambassadors for Christ Fellowship, a multicultural, interdenominational congregation in Columbus, Ohio.
Johnson is married to the former Brenda Warren, and they are parents of two daughters: Melissa and Angela.
Currently on leave of absence from his position as Professor of English at Otterbein College, Dr. Johnson has established Ambassador Press, publishers of his personal testimony Watch, Fight and Pray: My Three-fold Strategy to Combat Prostate Cancer and the collection Stone Upon Stone: Psalms of Remembrance.